This piece summarises some key points from my reflective Keynote at HEFI's 2021 Annual conference .
The last eighteen months have been incredibly challenging in education. Colleagues and students have dealt with loss of many kinds, alongside illness and anxiety. It has been hard for staff, with long days balancing personal circumstances with professional pressures. I am in awe of colleagues juggling family responsibilities, community work and care for students. I have two sons in education and I am personally very grateful to all who have supported and enabled their experience. This blog is a pause for thought on the year that was. It is my 'deep breath'. My reflections may not represent the experiences of others, but I hope sharing them may provoke others to pause and gather their own learning ahead of the new term.
It is clear from data on web search patterns (see below for an example) that we needed help at the start of the pandemic! While specialists have explored online learning for many years, many of us felt ill equipped for the task ahead. We needed to learn from each other on so many things. We really did start from a limited base.
Teaching in these circumstances was hard. I myself had some tricky classes and experiences – I experienced a sea of icons instead of smiling engaged faces. I was lost and confused, missing the cues of visual contact that signal when all is well, or not so. A colleague said to me "when you are in a classroom you can adapt to the reactions and body language of students and find an appropriate means of interaction". We were missing a feedback loop in teaching. The human act of full engagement was undoubtedly compromised. It's important not to overgeneralise from this experience. This was a time of emergency response and even eight years of work from home as an online facilitator, still left me lacking. The emergency element is key here; this was not planned online learning with willing and enthusiastic participants who had opted in. This was not online learning by design.
When someone commits to online learning, an important pre-step is to find study space. In the emergency situation this was just not possible. Students were often working in shared rooms, crowded houses and sometimes amongst essential worker commitments, whether on farm or in wards, shops or family business. This provided HE with a grounding reality check on the diversity of student circumstance. While we have lots of data on student circumstances, the individual interactions gave a window to student realities that we shouldn't forget.
Online methods
The pandemic post-mortem has now begun in the literature – with questions about what the situation tells us, how we can build forwards and more. Work by Bacon and Peacock (2021) shows, in the context of ecology and allied subjects, that the online pivot was universally made for lectures, but labs and field work were not always delivered in an altered form, there was a good deal of cancelation. Lectures translate well to online; common sense says that the more interactive aspects are just harder.
Putting lectures online has some cost and some gains. Losses include a lack of interaction in pre-recorded sessions, although some lecturers went to extraordinary lengths to compensate and design this in by supplementing with live Q&A for each lecture. With playback and a lack of social reference points it is difficult for students to judge their level of engagement with some doing far too much in recording every word said, and others doing far too little. Online lectures made calibrating engagement tricky. Students reported back a loss of a shared event experience – lectures are events, they cause students to get up and out, they cause students to get together, ask informal questions of each other and to discuss. For lecturers who are the energised natural story tellers who thrive on theatre, the online translation might have been particularly tricky. The lack of audience for some gave a feeling of a lack of energy. For others the new format worked brilliantly with an opportunity to use online tools and try out new structures and approaches. As we build forward and look at the place of online lectures, it's important to recognise the different experiences of students and colleagues.
Innovation in lab, field work, practicals and tutorials was absolutely necessary if they were to happen. I encountered virtual field walks, dry labs, make at home tasks, and work to use the environment in-situ. Bacon and Peacock describe lab work as being intensive to prepare. This has been no easy task. Despite these Herculean efforts, I was stuck by a comment from a tutor in a study by Slade et al. who said "Practicals …are poorly replicated online and students miss out on gaining key skills. It is also when students establish personal relationships with the tutors (and to a degree the academics) making the course a much more enriched experience" (Biochemistry Tutor in Slade et al 2021). Whilst this resonates, I am also blown away by the learning and care that has been possible down the wires. Innovation has occurred in multiple spaces, always fuelled by care. I have seen innovation around the maintenance of civic engagement projects, one-to-one support through support services, supervision approaches, and making external speakers accessible. We should retain these gains where possible, but look closely at the relational aspects of teaching.
Relationships matter
Teaching is a relational business. The pedagogy of care, the craving of contact and events, the need for feedback by teachers and students, and the loss felt when relationships were impeded are all signals that underpinning education and a university experience is relationship building. I recall a 2015 BBC article reporting some Oxford University research about how likely automation in your job role was – lecturers came out as highly unlikely to be taken over by robots (!). At the end of the pandemic, I think the value of HE Professionals is ever clearer – I am pretty confident we won't move to automation any time soon!
Through this period, the value of a university education has never been clearer. University is not a place or an experience given, it is a community of people working with common purpose. The important contribution of all members is valuable and makes a difference to student experience. As we think about building forward, community engagement across the university feels more important than ever with every 'part' being valued.
Accessibility
This time has served as a reminder that accessibility is a non-trivial issue. According to Jisc, in 2021 half of HE students were disadvantaged, many on the edge of poverty can't afford the necessary data costs and digital and data poverty hindered online learning. Of course, some government funding went in to this area, but the complex causes of deprivation, coupled with geographic and cultural factors means that this is no easy fix. Reflecting the national trends Harper Adams' SU reported that "56% of respondents having experienced a problem when engaging with online study. This could for example include connectivity issues due to Wi-Fi, not having a suitable study space or problems with the content available to the student" (Harper Adams SU, 2021). While the infrastructure is in government's hands, accessibility is in ours. We can make smart choices about online learning and digital resources to assist in this very real problem. At the same time University's have a responsibility to provide the necessary support to staff to enable accessibility to be seriously addressed rather than making it solely an individual responsibility.
Digital capabilities, curiosity and confidence
As well as appropriate emphasis on accessibility, pandemic induced technological transformation has given renewed urgency to review how we proceed and build forward with digital capabilities. The growing use of tech from my own home workspace made me feel like a DJ at times. Juggling buttons and decisions with a live crowd too! I thought I was pretty competent with tech, but I encountered so much that I needed to learn. More broadly, I have seen colleagues seeking solutions, taking up training and trying things out, and I have heard immeasurable gratitude for IT colleagues and the support offered. Through the pandemic it has become clear that HE needs digitally fearless staff and students who can capitalise on the benefits of technology since society has changed, perhaps irreversibly. HE must not be a bystander.
Who should have responsibility for digital upskilling to maintain the momentum? In reality the pace of change renders training out of date soon after it is set up or provided. I can't subscribe to 'training' as being 'the' response to digital upskilling. It has an important part to play, but seeing how diverse individual tech needs are, the way forward needs to be more sophisticated. Returning to the idea of University as community, perhaps it is time for honest institutional conversations about approaches to digital upskilling. Perhaps we need more honesty about individual and institutional responsibilities. Institutions need to facilitate digital upskilling, not only through training, but also through appropriate infrastructure, equipment, and workload realism. We need an honesty that IT teams need to work as enablers not training deliverers (they may not know everything about your best options for complex problems) and we need an honesty about the resource constraints we are all operating in. For individuals, 'digital' must now be a routine part of academic roles and not a peripheral activity. I definitely don't have this issue solved, but it is clear that post-pandemic strategies for technology are needed if we are to avoid looking back and wondering why we didn't grab this moment.
Assessment
Examinations and practical tasks, as well as some group assignments all proved tricky in the pandemic. The assessment shift appeared to involve movement to open book tasks of various types e.g. take-away exams, and a movement from exams to coursework. As with technology in HE, there is a learning opportunity in this moment.
As a backdrop to this, academics have been visible in the news every day – making complex messages simple, helping us to assess truth from myth, helping us understand that science and what we know to be true evolves and changes and helping us to hold government and agencies to account. This visibility has brought in to focus the importance of real-world skills – we needed scientific communicators, critical thinkers and problem solvers. Using this reality to frame assessment can really highlight the importance of making sure our graduates – professionals, scientists, free-thinkers and industry experts – are equipped.
There is an opportunity for us to look at what has been lost and gained in our own contexts by some of the shifts in assessment and to consider how assessment can directly, and through its backwash of learning, support students to develop the skills, attributes and mindset that they may need for the future. We need to ask ourselves whether a return to exams as a norm is a wise choice. The case for authentic assessment has never been clearer. Like other aspects of HE, assessment is part of a 'system' and demands deep thought to avoid unintended consequences in a change process. Accessibility, workload, administration, resources, and student diversity all need to be considered. I would hope that perceived constraints over CMA and regulatory components don't hold back the sector's ambition.
The sharing of colleagues' assessment approaches through the pandemic has shone a light on how collaborative and mutually supportive we can be. Examples of authentic assessment have been shared via the Advance HE Torch Relay, as well as through Kay Sambell and Sally Brown's collection of examples of authentic assessment. Practical sharing of what is possible around assessment can be very important to help reimagine a way forward.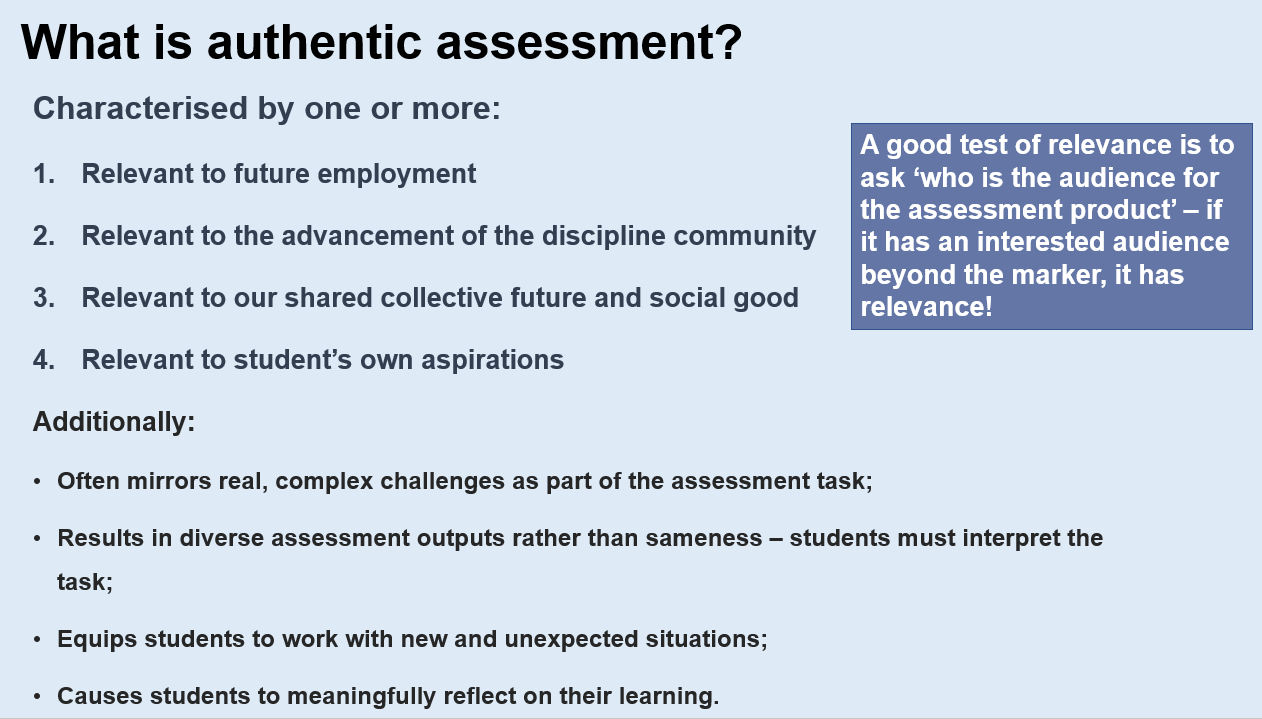 Partnership
Against the backdrop of crisis, partnership has been so important. Partnership to work a way forward, to evaluate choices made, to refine approaches, to develop interventions, to generate insights and challenge appropriately. Student reps and SUs have delivered difficult truth and timely challenge. They have asked difficult questions to make us better. Genuine partnership works, and we need to move away from what Meg Price described as "plonking a student officer on a committee" adding that "Not all SUs have the funding or capacity to run real research – and they should." (Price, 2021). I would add that it's not just about funding, it's about enabling that research. Giving access where needed and supporting skills development. Partnership has been shown as critical to rapid and meaningful progress, and it deserves continued investment. Moving forward, partnerships of trust, underpinned by research, should continue to be at the heart of all that we do.
Wellbeing and compassionate leadership
Care has never been so important. Education is a tired sector. As we learn and go forward in to the next year and beyond we need to make sure that we attend to care for each other. Care needs to be part of the institutional narrative, it should be embedded in our values and a lived reality. A policy on well-being is practically meaningless as a standalone. We need to live a culture of care. Of course, in large organisations difficult decisions must be made and sometimes they will not please everyone, but the processes of engagement, tone of communications, and the underlying culture can still show care.
While I have advocated for learning and change through this piece, I was struck by a note of caution around change from Kate Tapper who says "If there's slightly more pressure than expected, the thing (or person) breaks. When there is no give in our schedule, our capacity to respond with care to others shrinks. We spiral inwards, protecting ourselves, just holding it together is all we can do". As we build forward we will need to make choices about what we have personal and collective capacity to progress. We can't do everything. We will need to attend to what we do and how we do it, working hard to avert toxic culture, and move towards a positive, growth approach.
There are so many actions that can show care. In my HEFI presentation I listed ten areas of care from managing our own email discipline to minding our language by fostering a 'yes, and …' rather than a 'yes but ….' approach to others. Care means being careful with how we use data to judge colleagues and being clear about the shared organisational purpose to ease any division. Looking out for each other's well-being is a shared responsibility. Creating the conditions for this does sit with senior teams through, for example, modelled behaviours, strategy, taking difficult decisions, seeing and appreciating all parts of the organisation, avoiding fixed views and never being afraid to change direction if needed, expressing humility, and taking difficult decisions for the good of the organisational culture. Care and compassion need to be embedded. Without doubt, my greatest personal learning has been around the need for well-being and compassion to be at the heart of all the sector does.